All our servicing meets manufacturer standards to enure any warranty remains in place - contact us for details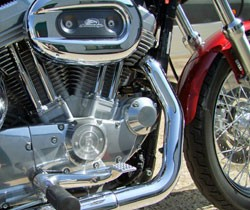 Motorcycle Servicing in and Around March, Cambridgeshire
We always use genuine manufacturers parts when carrying out servicing work on your vehicle, unless you advise us otherwise. The choice at all times remains yours though and we will ask you at time of booking which you prefer.
We offer a competitive £40.00 per hour labour rate (plus VAT) on all motorcycles and scooters. This is the same regardless of whether its a simple oil change or a complex cambelt change. This is under half the price of most main dealers, and in some cases one third the price!
We service all our motorcycles to at least the manufacturers service schedule using genuine parts ensuring this covers any manufacturer warranties outstanding on the bike. So you can get your motorbike serviced with us, save a fortune on service costs and still keep the warranty on your new bike. You will find there are many things we do on top of the recommended schedule as well, if being much cheaper wasn't enough!
We are happy to work on all types and ages of motorcycles, whether road or race, including Aprilia, Honda, Harley Davidson, Suzuki, Kawasaki, Yamaha, Triumph, Ducati, Peugeot, CPI, Derbi, MY Agusta, BMW, Gilera and all classics and cruisers as well as numerous Chinese bike manufacturers.
We offer the following services:
All Servicing
Full fault diagnosis and repair
Performance part fitting service
Collection & delivery
Tyre supply, fitting & balancing
MOT tests
Call us now on 01354 654777 for more information on our full range of services and competitive prices.