KZ900 Full Restoration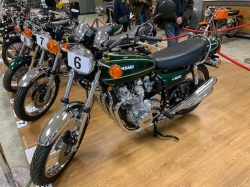 This Kawasaki Z900 was fully restored by Rick in our restoration workshop. In a total nut 'n' bolt restoration the bike was completely stripped down and each and every part restored where possible or replaced where this was the only option. The bike was returned to original specification ending up just as it was when it left the factory back in 1977.
We took the bike to a few motorcycle shows and were very proud when we won Best in Show at the 2019 Annual Motorcycle Show at Kempton Park, London. The show was celebrating it's 30th year, so congratulations to them in that acheivement, and we were told how we'd made history because our bike was the first ever Japanese motorbike to win in all the years they have been doing it. Amazing.
Later in the year we showed the restored motorcycle at the 28th Copdock Motorcycle Show in October and were made very proud when we were awarded runner up. To be rewarded in this way and have the hard work and dedication we put into all our restorations recognised is fantastic.
Learn all about our Restoration Service and contact us if you want us to offer advice or quote for your project.