Kawasaki 750 H2C Original Unrestored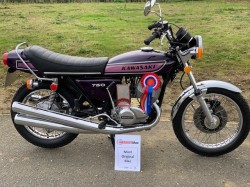 Not actually a restoration, this one, this Kawasaki 750 H2C Triple is a totally original example of this great motorcycle. Owned and maintained by use, this award winning motorbike is one of our pride and joys.
After showing the bike at some of the best motorcycle shows we were honoured to have won 'Best Trade Entry' at the Newark Winter Classic Bike & Scooter Show in Jan 2019 and then 'Most Original Bike' at Carole Nash Classic Motorcycle Mechanics Show at
Stafford in October. We even got to display our bike on the Carole Nash stand so it was a great year for us. We are aiming for even better in 2020 though so keep an eye out for our future motorcycle restoration projects.
Click to enlarge....