Kawasaki 250 Samurai A1 Prize-Winning Restoration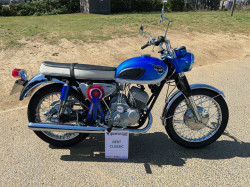 This Kawasaki 250 Samurai A1 has been fully restored in our restoration workshop by Rick himself. A total strip down and rebuild involved each and every part being restored or replaced where this was the only option. The bike was returned to it's original specification and, as we are sure you will agree, looks magnificent.
In May 2022 we showed the restored motorcycle at the Annual Motorcycle Show at Kempton Park, London and were thrilled when we were awarded 1st place for Best Classic. This was a fabulous end to a long and meticulous restorationand and to have the hard work and dedication we put into all our restorations recognised is fantastic.
Click to enlarge....