We offer after hours MOTs most evenings right up until 7 o'clock - contact us for details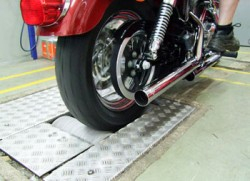 Motorcyle MOTs
Here at R Holmes Motorcycles in March we can MOT your motorbike right here in our workshop. A motorcycle MOT helps ensure that the bike is safe and fit for use on the road. The law requires all motorbikes over three years old must pass a test to hold a valid MOT certificate. Motorbikes registered before 1960 are exempt from MOT but you can still get it MOT tested to ensure it is safe for you to drive on the roads if you wish.
We understand that with todays hectic lifestyle it can be difficult to fit in your MOT so we are open until early evening and provide MOTs right up to 7pm so you don't have to take time out. Don't forget we also offer a collection and/or delivery service to make sure your MOT test is hassle free. We transport your motorcycle or scooter securely in our van to be sure it arrives without incident.
The MOT test for bikes covers various checks including:
Lights and Horn
All the lights are checked to ensure they are functional and meet the legal standards including checking for stonechips, flash rates and colour. The horn must meet the required standard also.
Brakes
A full front and rear brake check is performed using our brake rollers. Hoses and brake lines are checked for corrosion and leaks, disks are checked for corrosion and cracks and the pads must have sufficient life left in them.
Exhaust
All parts of the bike exhaust will be checked including looking for holes, loose mountings, excessive rust and leaks. The noise level is also assessed to ensure it meets the legal requirements.
Suspension
Front and rear suspension checks are performed on the motorbike. Checks include oil leaks, play and general good order.
Chain
Chains and drivebelts must not be too slack or worn.
Steering
Your motorbike will have it's steering checked to enure it moved freely and smoothly.
Tyres
The bike's tyres must meet the minimum tread depth and pattern and be free from defects, cuts and bulges.
Frame
The motorcycle frame is checked for serious corrosion and alignment issues.
You can check the MOT status of any vehicle online at the Direct Gov website here. The website gives you the date of the last test the motorcycle had and will show the mileage it had at that time and it's expiry date. This means you can check the authenticity of any paperwork offered with second-hand motorcycles and be sure that you are legally compliant for use on the UK roads.
Call us now on 01354 654777 for more information on our full range of services and competitive prices.