We Won Again!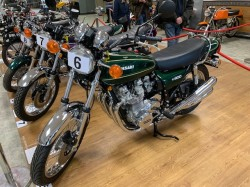 The 2019 annual motorcycle show at Kempton Park, London happened last weekend where they were celebrating their 30th year, so congratulations to them in that acheivement, and also to us as we won Best in Show! We were told how we'd even made history because our bike was the first ever Japanese bike to win in all the years they have been doing it. Rick was congratulated by all the judges, other competitors and the public alike and we are very proud to have our Kawasaki KZ900 restoration recognised in this way.
Learn all about our Restoration Service and contact us if you want us to offer advice or quote for your project.
Click to enlarge....