MOTs-R-Us!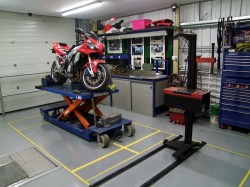 We are now an approved MOT motorcycle testing station here at our new motorcyle workshop in March, Cambs. This brand new bike test facility is up and running and ready to inspect your pride and joy.
If you need your motorcyle MOT'd contact us and get it booked in. Don't forget we also offer a bike collection and/or delivery service to make sure your motorcycle MOT test is hassle free.
Call us now on 01354 654777 to book your bike MOT.